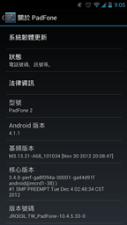 The Padfone 2 has gotten the update to Android 4.1.1 (Jelly Bean) today. The update is rolling out via an
OTA
update feature of the Padfone 2. The new version number for the TW versions of the Padfone 2 is 10.4.5.33.
The overal interface hasn't been changed a lot. But the new notifications and several other Jelly Bean features are confirmed to be included, like for example the new Google Now feature.
The camera and
Padfone 2 Station
both also got an update to version 50157 and 8309-p32a-017-C00010008-1016.
Feel free to join this forum topic to discuss this new firmware update for the Asus Padfone 2