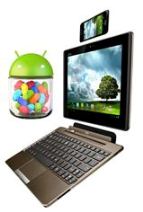 Asus keeps postponing the release date of the Jelly Bean update for the first generation Padfone. But according to Asus Finland, every region (almost every
SKU
) will get the update to Android 4.1 by the end of Q1.
Translated:
Asus Finland wrote ...

Dear PadFonen,

We are pleased to announce that the major update of the software-Android will soon
be available on the original 4.1 Jelly Bean PadFonelle. The update is done by region,
so that by the end of Q1 update operation is completed.

Thank you for your continued support.

ASUS

Update:
According to Asus Italy, the Jelly Bean update will roll out to the first regions on February 6. They also mentioned a couple of release notes:
Translated:
Asus Italy wrote ...

-Upgrade to Android 4.1.1
-Improved Dictionary Instant
-Improved the preview function of the camera
-Improved Clipboard
-Improved File Management

The update will roll out via the
OTA
feature of your Padfone, and will be available on the Asus website soon after.
Feel free to join the discussin about this topic on our forums.