Is Asus working on the Padfone Mini?
Author
Marc Schattorie
Sunday 11 August 2013 - 12:54:19
Comments: 7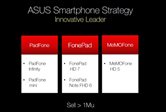 During a conference call presentation that Asus CEO Jerry Shen gave, one of the slides revealed the
Padfone Mini
. It's said that the
Padfone Mini
will be a smaller version of their current high end Padfone Infinity.
It looks like Asus is trying to follow the strategy of Samsung and HTC by creating a
Padfone Mini
based on the Padfone Infinity. Since the Padfone Infinity is a 5" smartphone which is too large for some people, Asus could choose to build a 4.3" (or maybe even smaller) version, and call it "Mini".
Please bear in mind that this slide does not confirm or deny anything, so time will tell what's going on here.
So what do you guys think about this? Let us know in the comments.
---
Comments
Comments: 1

Registered: 14 Jun : 21:44

Well, if they could make an effort to release their products within a month or two after launch I would certainly buy one.





Comments: 12


i wonder if the tab will be smaller too?



Comments: 75

Registered: 17 Jun : 14:09

I don't think they'll change the tablet part (at least the size)...



Location: Roermond
Padfone (A66, Full set, 32GB, Taiwan/CHT) owner since: 14-06-2012 (cracked phones glass on 24-02-2014, repaired 26-03-14)
Padfone Infinity (A80, Titanium Gray Sample Unit, 32GB, International/WW) owner since: 14-06-2013 (Back to Asus since 05-07-13)
New Padfone Infinity (A86, Titanium Black, 32GB, Taiwan/CHT) + TransKeyboard owner since 03-03-14, hard bricked itself on 24-12-15, replaced with new NPFI 32GB on 17-01-16, this one (soft)bricked itself on 31-01-17, received new one on 15-02-2017, died within an hour due to partition issues.
Zenfone 3 Deluxe (ZS570KL, Sand Gold, 32GB, International/WW) since: 20-02-2017




Comments: 2

Registered: 10 Apr : 17:40

Normally Mini Version is dualcore.

Currently our Padfone 1 is 4.3" and also its dualcore.

To me, Padfone 1 is still awesome (after root). GMD Hide Soft Key has effectively increase my screen size to 4.3".



Location: Malaysia

Comments: 2

Registered: 16 Jul : 12:37

Mhh I don't think making a smaller one is the key. I would say releasing it in more countries and faster after release would be a better strategy to attract more buyers.



Location: Kampen

Guest


Padfone 1 = use for 1 year
Padfone 2 = use for 2 week
Padfone infinity = don't even think of it

Padfone mini = Can try is the spec is good with docking station and keyboard = 100% grab

and once announce better faster sell with the best benchmark otherwise throw to the pool ba

Comments: 2

Registered: 15 Feb : 15:12

i like the mini idea, those phones are getting bigger and bigger, there are pretty much nothing to select if you want to have a decent small droid phone. Something Xperia Ray size wold be perfect for phone. And if that could dock into tablet - that would be perfect.






Padfone Club Newsletter