The Asus new Padfone Infinity
Author
Marc Schattorie
Tuesday 17 September 2013 - 19:14:22
Comments: 7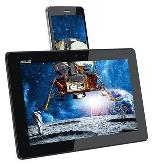 So Asus launched their already leaked "New Padfone Infinity" today.
The device is not too much different from the original Padfone Infinity. To start off, it does have a new CPU inside, as expected it is the Qualcomm Snapdragon 800 with a clock speed of 2.2GHz. The RAM might also seem to be the same (2GB), but it it's faster tha n the original Padfone Infinity (LPDDR2 on the original Padfone Infinity vs LPDDR3 on the new Padfone Infinity). It also seems that Asus did listen to the community a bit because they finally added Micro SD card slot which allows Micro SDXC cards up to 64GB. There is also a secondary microphone along the top of the device which allows for better noise cancelation during calls, and can be used for stereo audio during video recording.
The new Padfone Infinity will be available in two colors: Titanium Black and Platinum White. Also, there is no 64GB version of this device, only 16GB and 32GB units will be shipped.
We're still updating all our resources to be correct, so in the past couple days you will find all the details about this new device on Padfone Club.
We already opened our special
New Padfone Infinity General forum
for you guys to discuss about the 4th generation Padfone. All other forums will follow when the device becomes widely available.
---
Comments
Comments: 1

Registered: 21 Aug : 21:36

Jelly Bean 4.2.2 update for the OLD Asus PadFone Infinity?
Two months with mi API and now there's a new one?
Not fair... Hope we can get an update u___U



Enviado desde mi ASUS PadFone Infinity

Comments: 75

Registered: 17 Jun : 14:09

The Padfone 2 and OLD Infinity will get an update straight to Anroid 4.3, they leaked that it would be released before the end of Q3 which is this month...



Location: Roermond
Padfone (A66, Full set, 32GB, Taiwan/CHT) owner since: 14-06-2012 (cracked phones glass on 24-02-2014, repaired 26-03-14)
Padfone Infinity (A80, Titanium Gray Sample Unit, 32GB, International/WW) owner since: 14-06-2013 (Back to Asus since 05-07-13)
New Padfone Infinity (A86, Titanium Black, 32GB, Taiwan/CHT) + TransKeyboard owner since 03-03-14, hard bricked itself on 24-12-15, replaced with new NPFI 32GB on 17-01-16, this one (soft)bricked itself on 31-01-17, received new one on 15-02-2017, died within an hour due to partition issues.
Zenfone 3 Deluxe (ZS570KL, Sand Gold, 32GB, International/WW) since: 20-02-2017




Comments: 4

Registered: 04 Apr : 11:49


Today already is 18 Sep, still no sign of any update...

I will not buy the New infinity, because the OLD infinity is less than 6 months old.



LG G2 F320K ~ Black (ROOTED)
Samsung Note 3 LTE ~ White
Padfone infinity 64G ~ Champagne Gold ~ HK Version(ROOTED)
Padfone 2 64G ~ Black ~ HK Version
Samsung Note 2 (SOLD)
Samsung Note (SOLD)


Comments: 1

Registered: 07 Jun : 23:15

am portugues and i need buy one padfone infinity, but in portugal don't have. Where i can buy one padfone infinity?



Location: Portugal

Guest


As a power seller, we have to eliminate unnecessary costs and the world with factories, distributors and warehouses offer the lowest prices to customers long-lasting relationships, we are committed to providing high quality goods less. We only provide the highest quality products, allowing customers to shop with confidence.

Guest


Every single time I've louis vuitton and from here or maybe just had to comment and give y'all some feandback on y'all great services choose the louis vuitton and the Retro 9's on Thursday and in either case got them on Saturday. I got them on right now....

Guest


Every single time I've louis vuitton and from here or maybe just had to comment and give y'all some feandback on y'all great services such as louis vuitton and the Retro 9's on Thursday and direction got them on Saturday. I got them on right now....
cheap retro jordan https://www.bestretro-jordans.com


Padfone Club Newsletter