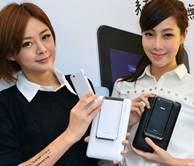 A surprising change in the Padfone series. Asus has released their new Padfone, but this time it's not an upgrade of their flagship, but a trendy alternative.
The
Padfone Mini
will be a 4.3" phone running an a 1.4GHz Snapdragon 400 Quad-core CPU with 1GB of RAM. The "small" display has a resolution of 960x540. It will be available with 16GB of internal storage, but luckily it does also feature a MicroSD card slot.
The surprisingly smaller then usual 7"
Padfone Mini Station
has a display resolution of 1280x800, a 2200mAh battery and features the same docking mechanism as 3 of it's previous bigger brothers.
We currently don't have any information about the camera quality, we'll update this post as soon as we know more. But we can tell you that you probably don't have to expect a 13MP rear camera. What we can tell already is that the
Padfone Mini Station
does not feature a front facing camera.
Of course we've also opened the
Padfone Mini
General forum,
so feel free to discuss about the 5th Padfone in line!
Update:
The
Padfone Mini
does feature a 8 MegaPixel with an Aperture of f2.0. The front facing camera on the phone is a 2 MegaPixel camera. The
Padfone Mini Station
does not have a front facing camera like we mentioned before.
More information about this new family member can be found on Padfone Club!