News Item: Padfone Club: What's Happening Update
(Category: Misc)
Posted by Marc Schattorie
Saturday 25 August 2012 - 13:39:10

A quick update about the Padfone, and our community.


The Singapore (SG) version of the Padfone got a firmware update to the latest version, version 9.20.2.14. The International (WW) version got an update aswell to the same version. It is possible to download the update via OTA to your Padfone, but if you want to download the full package, or an upgrade package, they are available here.

We've also added a DDS List to our website. This list contains apps, and shows if it supports the Padfones Dynamic Display Switching. Every member is free to update apps that are already on the list, or they can add new apps.

We also would like to know what you think about all the Padfone 2 rumours, so if you would like to share your thoughts, join us in this forum topic.

We've also added new Padfone related avatars in the user settings to be used as an avatar in our forums. We will add more avatars in the future.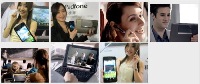 ---
This news item is from Padfone Club
( http://padfoneclub.com/news.php?extend.20 )