News Item: It's official: Padfone 2 will be announced next month!
(Category: Misc)
Posted by Marc Schattorie
Thursday 20 September 2012 - 20:44:23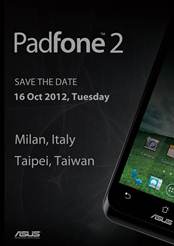 Asus made an official statement today about. It will be announced on October 16th at conferences in Taipei and Milan.

The only thing we know at the moment is that the Padfone 2 will most likely be shipped with Android 4.1 (Jelly Bean). If you look at the picture, you will see the Jelly Bean camera icon in the lower left corner of the display.

According to recently leaked benchmarkts (so this is not official) the Padfone 2 will feature the new Qualcomm Snapdragon S4 Pro quad-core processor and 2GB of RAM.

Other information is still not available, but on October 16th we will finally know a lot more!

This may be an official statement, but everyone is still welcome in our Padfone 2 rumours discussion to talk about this.


---
This news item is from Padfone Club
( http://padfoneclub.com/news.php?extend.23 )