News Item: Padfone 2 officially announced!
(Category: Misc)
Posted by Marc Schattorie
Tuesday 16 October 2012 - 17:35:46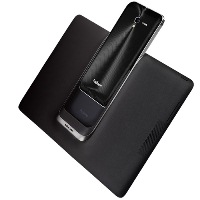 The long expected launch event of the Padfone 2finally took place today in Taiwan and Italy. Now we finally know what this second generation Padfoen is all about.

A lot of things that we pretty much already knew got confirmed. Like the Qualcomm Snapdragon S4 Quad Core CPU which has a clock speed of 1.5GHz, 2GB of RAM, a 13MP camera and the fact that it does support LTE (700/800/1800/2600MHz). It was also confirmed that the Padfone itself will have a Super IPS+ screen which has a resolution of 1280×800, it's a surprise that it supports a resistive touch screen isntead of the usual capacitive touch screen, luckely the touch screen is not a resistive screen, it is a capacative touch screen. It seems like the information on the Asus Padfone 2 page was not accurate...

But there were also a couple of surprises. First, the tablet with the phone docked seems to be very light with a weight of 649 g.
The second surprise was the fact that this device will be available in two colors, black and white.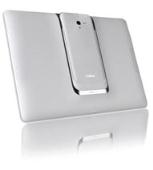 The front camera of teh Padfone itself also got an upgrade, on the first generation Padfone it was a VGA camera, this changed to a 1.2MP camera for the Padfone 2 (and the Padfone station also has a 1.2MP front camera).

The connector on the bottom of the Padfone 2 Station is now smaller.

There was no docking keyboard shown at the presentation which did dissappoint a lot of our community members.

We will update all our Padfone 2 pages to the right up-to-date information in the next couple of hours. We will also make comparison pages to compare both devices.






---
This news item is from Padfone Club
( http://padfoneclub.com/news.php?extend.33 )