News Item: Padfone 2 to hit stores in Singapore on November 22
(Category: Misc)
Posted by Marc Schattorie
Monday 19 November 2012 - 17:15:25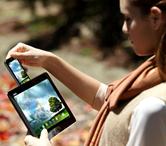 Asus announced that they will release the Padfone 2 in Singapore on November 22. The Padfone 2 will also be compatible with StarHub's LTE network.

Pre-orders for the Padfone 2 have already started. The 32GB and 64GB Padfone 2 models including the Padfone 2 Station (without data plan) will be sold for S$1,099 and S$1,239 respectively. The Asus PadFone 2 will be available at Asus retailers, SITEX computer show, and exclusively from StarHub from next Thursday.

A discussion about the Singapore release was started by one of our users today, feel free to join us...


---
This news item is from Padfone Club
( http://padfoneclub.com/news.php?extend.44 )