News Item: Padfone 2 Accessories available in Taiwan by next month
(Category: Misc)
Posted by Marc Schattorie
Monday 28 January 2013 - 10:41:00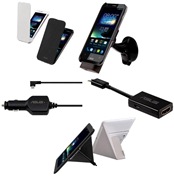 One of the members on our forums reported that Asus Finland posted about some Padfone 2 accessories on their facebook page. But no-one seems to know where and when they will be available.

In a reply to Padfone Club, Asus Taiwan told us that these accessories should be available by next month in Taiwan, and that they can be purchased in their Service Centers.

They couldn't tell any exact dates, and also said that the release dates for other countries are different. But we think they can be expected soon after.



Asus Taiwan wrote ...

Taiwan is expected to begin in February selling Padfone2 Accessories.
You can buy in Taiwan service center.
Padfone2 Accessories selling time are different in each country.





---
This news item is from Padfone Club
( http://padfoneclub.com/news.php?extend.52 )