News Item: Is Asus working on the Padfone Mini?
(Category: Misc)
Posted by Marc Schattorie
Sunday 11 August 2013 - 12:54:19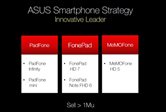 During a conference call presentation that Asus CEO Jerry Shen gave, one of the slides revealed the Padfone Mini. It's said that the Padfone Mini will be a smaller version of their current high end Padfone Infinity.

It looks like Asus is trying to follow the strategy of Samsung and HTC by creating a Padfone Mini based on the Padfone Infinity. Since the Padfone Infinity is a 5" smartphone which is too large for some people, Asus could choose to build a 4.3" (or maybe even smaller) version, and call it "Mini".

Please bear in mind that this slide does not confirm or deny anything, so time will tell what's going on here.

So what do you guys think about this? Let us know in the comments.


---
This news item is from Padfone Club
( http://padfoneclub.com/news.php?extend.68 )