News Item: Padfone 2 and Infinity get Android 4.3, first Padfone abandoned?
(Category: Misc)
Posted by Marc Schattorie
Tuesday 03 September 2013 - 22:59:05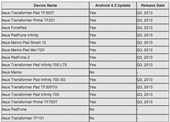 Asus has released a calendar containing information about the Android 4.3 Jelly Bean update for all their Android devices.
According to the table, the Asus Padfone 2 and Asus Padfone Infinity will get the update to the latest Jelly Bean version by the third quarter of this year, which should be before the end of September.

But we have bad news for the first generation Padfone fans, Asus does not seem to be planning on any update for it.

Let us know what you think, should Asus keep supporting the first generation Padfone?


---
This news item is from Padfone Club
( http://padfoneclub.com/news.php?extend.69 )