News Item: The Asus new Padfone Infinity
(Category: New Padfone Infinity)
Posted by Marc Schattorie
Tuesday 17 September 2013 - 19:14:22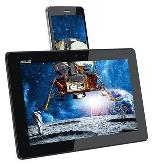 So Asus launched their already leaked "New Padfone Infinity" today.

The device is not too much different from the original Padfone Infinity. To start off, it does have a new CPU inside, as expected it is the Qualcomm Snapdragon 800 with a clock speed of 2.2GHz. The RAM might also seem to be the same (2GB), but it it's faster tha n the original Padfone Infinity (LPDDR2 on the original Padfone Infinity vs LPDDR3 on the new Padfone Infinity). It also seems that Asus did listen to the community a bit because they finally added Micro SD card slot which allows Micro SDXC cards up to 64GB. There is also a secondary microphone along the top of the device which allows for better noise cancelation during calls, and can be used for stereo audio during video recording.

The new Padfone Infinity will be available in two colors: Titanium Black and Platinum White. Also, there is no 64GB version of this device, only 16GB and 32GB units will be shipped.

We're still updating all our resources to be correct, so in the past couple days you will find all the details about this new device on Padfone Club.

We already opened our special New Padfone Infinity General forum for you guys to discuss about the 4th generation Padfone. All other forums will follow when the device becomes widely available.


---
This news item is from Padfone Club
( http://padfoneclub.com/news.php?extend.73 )