News Item: Confirmed: Android KitKat for several Padfone versions?
(Category: Misc)
Posted by Marc Schattorie
Thursday 27 February 2014 - 17:25:22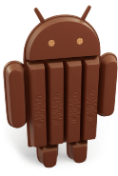 Asus has released a statement about the release of Android 4.4 (KitKat) to some of their Padfone's.

According to this article on the official Asus website the Padfone 2, Padfone Infinity and new Padfone Infinity will receive the new update this year.

The Padfone 2 (A68), Padfone Infinity (A80) will receive their update by the end of Q2 of 2014. The new Padfone Infinity (A86) users have to wait until Q3 of this year. First generation Padfone users (A66) are sadly still stock at Android 4.1.1 (Jelly Bean)

It's not clear if the information shared is completely correct. Asus is known for providing incomplete information, so we still have to wait for more information before this can be confirmed for 100%.

Update: We've asked Asus to confirm the story, and they did.

A68 (Padfone 2), A80 (Padfone Infinity) and A86 (New \Padfone \Infinity) will get KitKat 4.4 with ZenUI (which was introduced on their ZenPhones). The update schedule is a rough guideline since many factors play a role in the final release of an update, but that's understandable of course. As for the question "Which SKU per device will receive the update?" they tell us that this information has not been released yet.


---
This news item is from Padfone Club
( http://padfoneclub.com/news.php?extend.77 )