News Item: Asus Transformer Book V
(Category: Misc)
Posted by Marc Schattorie
Wednesday 04 June 2014 - 17:04:14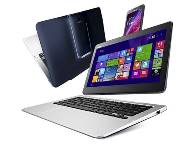 After their first transformer tablets/netbooks, Padfones, full-blown-ultrabook-hybrids, Asus is still able to surprising us with new innovations.

The Asus Transformer Book V (Five) is a 12.5-inch tablet/ultrabook, the tablet part has its own Windows 8.1 OS running on an Intel Core architecture. Then you have the 5-inch, ZenFone 5-like Android 4.4 phone, which is the first to run on Intel's 64-bit quad-core Atom (Moorefield) chip with LTE radio. When docked, the phone's Android interface is displayed within Windows 8, and you can also switch to the full Android tablet interface. In other words, you get five modes in total:
1. A Windows tablet
2. A Windows laptop
3. An Android phone
4. An Android tablet
5. An Android laptop

So what do you guys think? Do you think it's going to be a success? Discuss it in the comments below.


---
This news item is from Padfone Club
( http://padfoneclub.com/news.php?extend.79 )