News Item: Is Asus working on the Padfone S2?
(Category: Misc)
Posted by Marc Schattorie
Sunday 26 July 2015 - 18:11:45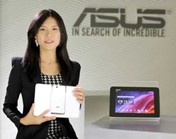 Thanks to user Madthing for waking me up, as the owner and pretty much the only member of the team of this website left, I'm not very active anymore. I still have my Padfones, and use them everyday. So if anyone likes to help me keep the forums spam free, and update the site every once and a while, I'm open for it.

Now without any further ado
Bear in mind that this information is based on unverified leaks.

The Padfone S2 should be equipped with a Qualcomm Snapdragon 820, the latest and greatest CPU from Qualcomm. It will have 4GB of RAM and 32GB/64GB storage space. The rear camera of the phone will be a 20.7MP camera, and the front camera will be perfect for 8MP selfies.

The Padfone S2 should be available in March of 2016, so that's still a long time to go.

You can discuss about this device in the Padfone S forums.


---
This news item is from Padfone Club
( http://padfoneclub.com/news.php?extend.85 )