The Padfone Infinity (review by radibg2)
radibg2, Sunday 24 November 2013 - 13:20:00
First impressions
Very good design and workmanship. Easily held and operated with one hand. Quickly finds you where you are, by GPS, without WiFi or 3G. Very good screen with wonderful contrast and brightness on the display. Good coverage of GSM/3G signal, excellent quality microphone and speaker for calls. Speaker on the phone is good and pulls great sound, but the station has much better sound.
Screen
Wonderful screen with great viewing angles. When outdoors, even if it does not include outdoor screen mode still very visible on max brightness but if is it on less than 45-50% you should to turn on outdoor mode to see all.
Performance
You can play all games without lag with enabled power saving mode on maximum. All games starting without problems, but most of apps closing when I put the phone into the station. The camera is wonderful with many of options, also the front camera is good. The WiFi signal is strong. Doesn't have any lag in Android menus. Here are benchmark tests, and camera pictures:
Camera Samples
https://www.copy.com/s/t%3AvgLEYjCeZdq6UFR1%3Bp%3A%252FPadfone%2520Infinity%2520Camera
Benchmarks
Antutu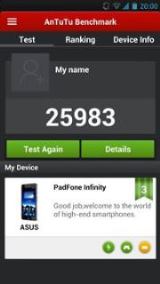 NenaMark2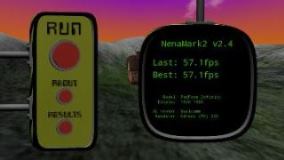 Vellamo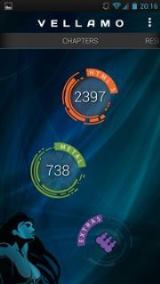 Quadrant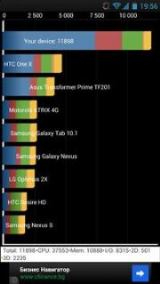 GFXBench 2.5 Egypt HD Offscreen – 3843 frames, 34 fps
Interface
The phone have very user friendly interface. The status bar have a lot of options. A lot of additional and useful software. There are some of the apps and their main features:
SuperNote – with SuperNote you can fast and easy make notes, with a lot of options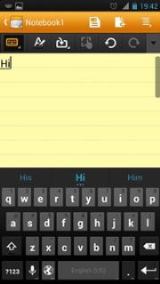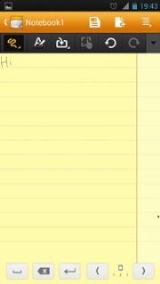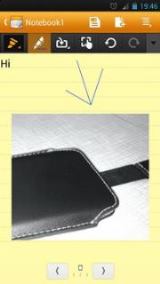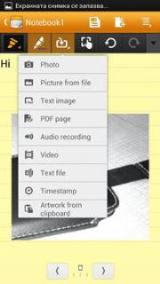 App Backup – with that app you can backup your app, or app and data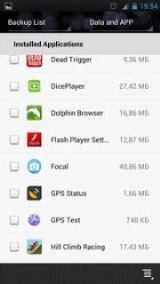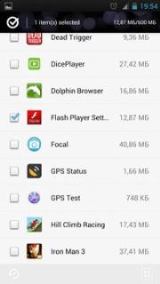 Asus Splendid – with that app you can setting up your screen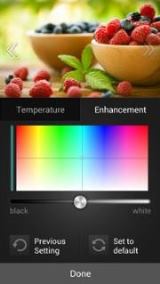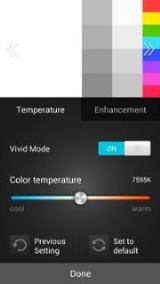 Asus Story – with that app you can create photo albums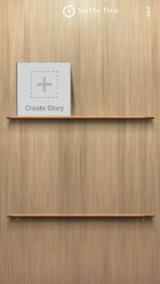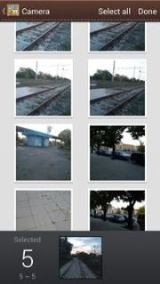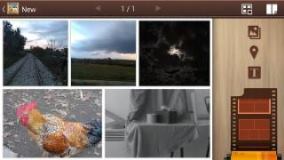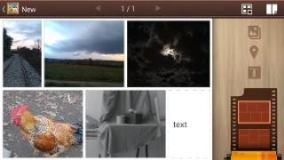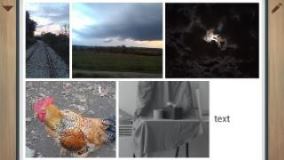 Block List – with that app you can block phone numbers or contacts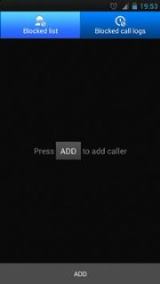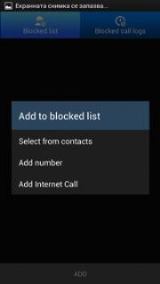 AudioWizard – with that app you can change the sound modes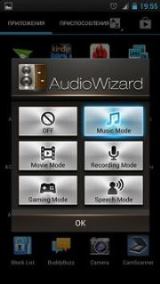 Launcher and status bar – with that option of the launcher you can different home screens for different places(at home, at work, entertainment and also can add more).
Status Bar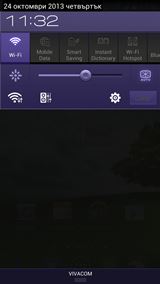 Different home screens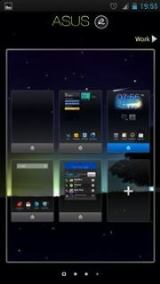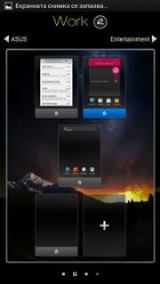 Long press the home button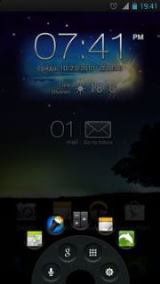 Battery
If you play games on the phone you can play around 4 - 5 hours. If you browse you can browse all day and your battery in the evening will be on 30-40%. If you watch film(the film that I watched was 2 hours and half) with station the battery both devices will drain with 20-35%.
How to take screenshots
To take screenshot you should to hold the power and volume down button.
OTG
When you connect OTG cable to your phone or station, you can open Flash Drives, connect Mouse and Keyboard, when you connect USB Hub you can connect mouse and keyboard but only one Flash Drive.
MyDP to HDMI
When you connect you phone to your TV you can show your phone screen to your TV, that is all. If your film or game have good graphic quality you will have good quality and on the TV. You can also play and 3D films.
DLNA
If your TV have DLNA you can play films to your TV when you connect your phone to the same wireless network as the TV and use APP for DLNA playing, but with that option you can only to play music, films and photos, cannot view your phone screen on the TV.
---
this content item is from Padfone Club
( http://padfoneclub.com/pl/content/content.php?content.45 )