Eachine 10400mAh Powerbank review
Marc Schattorie, Sunday 27 July 2014 - 19:54:00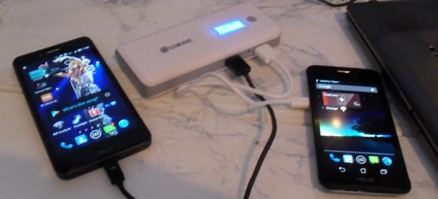 After using this powerbank for a couple of days, we think the power bank is definitely worth the money if you are traveling a lot and need some exra power for your Padfone + Padfone Station.
Build and Design
This powerbank has a nice look, it's not too fancy, so you know that you only pay for the functionallity. Even though it doesn't look fancy, it does feel very solid and expensive, the build qualiry of this powerbank is very nice.
The powerbank is also not too big, but it's not small either (see images for reference).
The powerbank does also feature a small LCD display showing the percentage of charge the powerbank is holding. A lot of other powerbanks use LED lights to show the battery percentage, but this LCD display will show tou the exact number, no more guessing.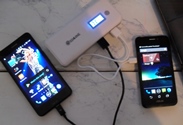 There is even a small LED flash light built in, very handy. Just press the only one button on the device twice, and it will activate the flash light.
The powerbnak does have 2 full sized USB connectors so you'll be able to charge two devices simultaniously. It does also feature a Micro-USB input to allow you to charge the powerbank itself when it runs out of battery.
Accessories
This powerbank comes with one USB to Micro-USB cable and includes 3 extension adapters. One adapter to change the MIcro-USB in an iPad/iPhone connector. One to change the Micro-USB to Mini-USB. And finally one that changes Micro-USB to 1.5mm jack size connector.
So the Micro-USB cable can be used to charge several types of products, but it can also be used to charge the powerbank itself. But in this last case we would've expected a wall charger to come with it. I've used the New Padfone Infinity wall charger for this review which seemed to work fine.
The hardware
The battery comes with a very sustainable juice of 10400mAh.
It will charge your New Padfone Infinity for about 4-5 times, Or it can even fully charge your Padfone + Padfone station about 1.5 times.
We fully discharged the powerbank and it took us about 14 hours to fully charge it. Quite standard for a powerbank of this size we thought, considering the amount of juice it stores up.
Conclusion
The powerbank does a proper job at what it's made for. It will charge all Padfones without a problem, and does include some nice fatures like the flash light.
---
this content item is from Padfone Club
( http://padfoneclub.com/pl/content/content.php?content.52 )