News Item: Padfone getting Jelly Bean by the end of December
(Category: Misc)
Posted by Marc Schattorie
Monday 24 September 2012 - 09:37:18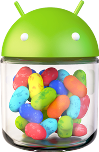 A lot of news is pouring in lately. Padfone 2 announcement, possible Padfone 2 release in The Benelux, Padfone 3 information. And now we have word from Asus Malaysia about the release of Android 4.1 (Jelly Bean) on our Padfones.
According to them, the Jelly Bean update is scheduled to begin in late December for Taiwanese (CHT) Padfones. Asus doesn't mention a date for the World Wide release of Jelly Bean, but this will probably be somewhere in January.

Posted by Rapis on our forums:



Asus Malaysia wrote ...

Dear Valued ASUS Customers,

We are pleased to announce that we will soon be rolling out a major software update for the ASUS PadFone, which will update it to Android™ 4.1, Jelly Bean.

The tentative FOTA update is scheduled to begin in late December in Taiwan, then subsequently worldwide.

We will announce Jelly Bean update plans for other Transformer Pad Series devices in the near future, so stay tuned.

Thank you for your continued support.




---
This news item is from Padfone Club
( http://padfoneclub.com/news.php?extend.26 )