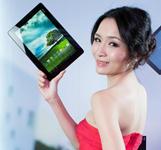 About 11 days ago
we posted about haat the Padfone 2 got a firmware updage. Today
one of our forum users posted
about yet again a new firmware update for the Padfone 2.
The new Padfone 2 firmware version is 9.8.8.55 and had the Taiwan (TW)
SKU
version.
The user reported that the camera version got an update, and
another user
reported that some issues that he had with the previous firmware versions are solved.
There is currently no changelog or download available for this firmware version, it is only available via the
OTA
updater on the Padfone 2 at this moment.

Changelog:
1. Improve Camera Focusing/Photography and image quality
2. Improve Instant translation function
3. Improve Dark Screen mode network traffic to ensure smooth online music streaming
4. Improve system stability and call quality
5. Add more games compatible with phone, ex:閱讀空氣 、永恒戰士
6. Improve MHL compatibility
7. Support phone data encryption