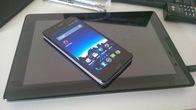 About one year ago ctys2ard and I (SparkyRih) met on the XDA developers forums and noticed that there was no support for the Padfone anywhere on the internet at the time, so we decided to start our own community website to support this device.
But who thought that the Padfone series and the community around it would grow out to be what it is today? Our community grew pretty quick, and within this year we reached more than 10.000 forum posts. But we also get great support from Asus themselves to make this possible. Because we're an international website, Asus decided to give us a Padfone Infinity to review, and to allow us to answer all of your questions.
On June 21 I created the first news item on this website, with a short video of the first generation Padfone. Now, almost one year later I'm able to make a video of the third generation Padfone, the Padfone Infinity!
Our detailed review of the Padfone Infinity is already in progress, and will be published soon! In the meantime we've
opened a forum topic
for you to request special details about this device.